Auto Injury Relief with Chiropractic Care in Overland Park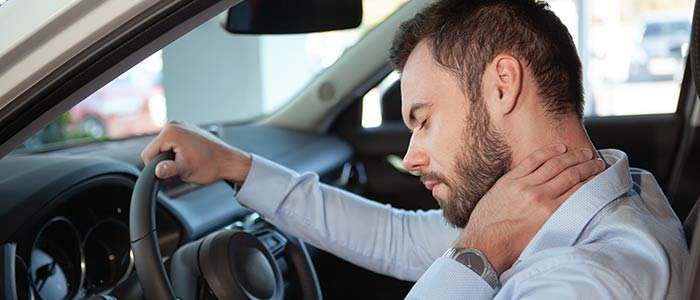 If you are involved in any type of motor vehicle accident in Overland Park - in a car, a truck, a boat, or even while riding an ATV - being 'shaken up', even if you believe you are relatively uninjured is perfectly normal. As, in many cases, are physical effects of the accident that may not fully manifest themselves for days, or even weeks, after the incident occurred.
Injuries like broken bones, cuts, and bruises are easy to spot after a motor vehicle accident and are usually treated promptly in an emergency room or urgent care facility.
Other common MVA injuries, especially whiplash, are hard to spot in such a setting and patients often go home to begin dealing with the more mundane aspects of the aftermath of a motor vehicle accident – getting their vehicle fixed, beginning their dealings with their insurance company – believing themselves to be 'fine', only to notice new neck pain, back pain, headaches, and other physical ailments sometime later.
---
What is Whiplash in Overland Park
All kinds of injuries can occur as the result of a motor vehicle accident, but whiplash is one of the most common.
Whiplash injuries occur when the head and neck are abruptly forced backward and then forward, a move that puts the cervical spine through a fast, unnatural motion that can cause extreme stress and tear or weaken the surrounding soft tissues. Hours, days, or weeks after the initial trauma whiplash can begin to manifest itself in the form of neck pain, upper back or shoulder pain, numbness or tingling in the same areas, headaches, stiffness, and/or a decreased range of motion.
---
Why See a Chiropractor After a Motor Vehicle Accident
After any MVA it is advisable to book a consultation with a reputable chiropractor, even if you believe you are perfectly fine. Although most people should be covered by insurance for the treatment of injuries received in a motor vehicle accident the claims process can be a tricky one to navigate successfully.
One of the biggest complications is the fact that, in most cases, time limitations are placed upon the insured to file a claim for both the damage to their vehicle and any medical care they require as a result of the accident.
Unseen injuries after an MVA like whiplash can cause pain for months and also come along with other complications. If help was not sought for them immediately, however, it's quite possible that an insurance company will refuse to cover them, leaving the patient in pain AND out of pocket.
---
Chiropractic Treatment for Whiplash
Chiropractic treatment for whiplash and other motor vehicle accident-related injuries can be very effective, providing symptom and pain relief in a more natural, medication-free manner. Rather than masking symptoms with heavy pain medications chiropractic treatments get to the root cause of the problem and the work to correct it to provide lasting relief.
At Nigus Chiropractic & Acupuncture, in addition to providing the highest possible level of chiropractic care, we also provide the resources to help you talk with your insurance company, and if you need to litigate the accident, we have a proven network of personal injury attorneys that you can trust.
The key, however. is often prompt consultation, so if you are involved in a motor vehicle accident calling or contacting us to book a free consultation should be right there at the top of your post-accident to-do list.
OFFICE HOURS
Monday
9:00am - 1:00pm
3:00pm - 6:00pm
---
Tuesday
9:00am - 1:00pm
3:00pm - 6:00pm
---
Wednesday
9:00am - 1:00pm
3:00pm - 6:00pm
---
Thursday
9:00am - 1:00pm
3:00pm - 6:00pm
---
Friday
Closed
---
Saturday
Closed